Design Sprint Deep Dive with Jake Knapp & AJ&Smart
July 3 @ 11:00 am

-

July 5 @ 9:00 pm
A premium, 3-day advanced Design Sprint training focused on taking your Design Sprint facilitation skills to the next level. This will be the most immersive and engaging way to advance your Design Sprint facilitation skills, and you'll experience a brand new training format, with topics we've not covered anywhere else.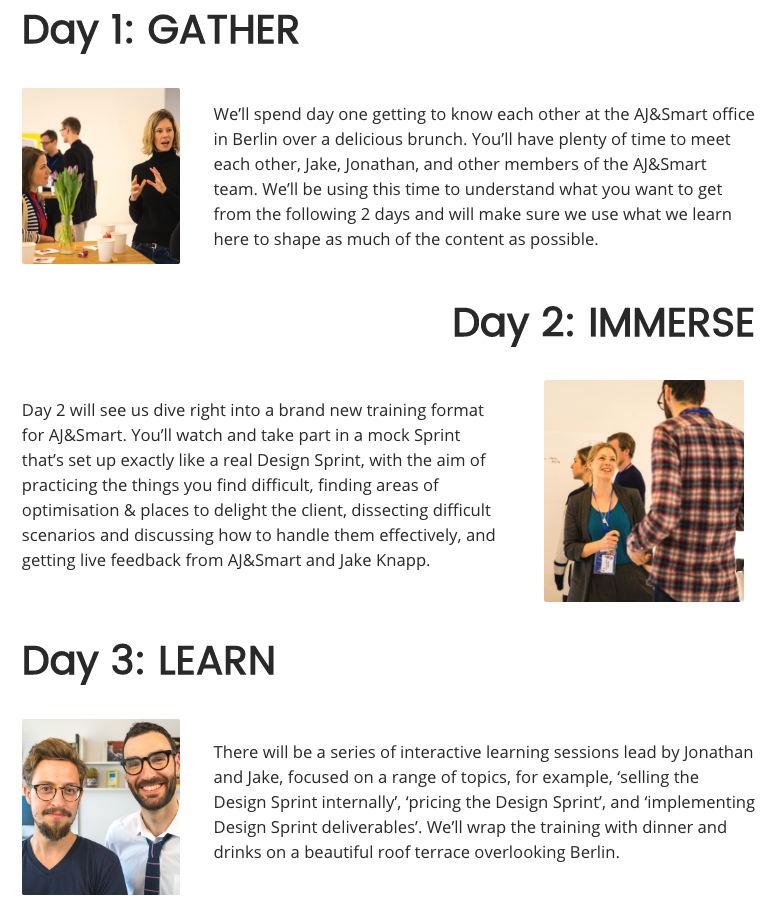 Who is this for?
This event is designed to take you MUCH deeper into all aspects of the Design Sprint and help you much more confidently facilitate. The content is specially created with the following people in mind:
Freelancers or consultants that use the Design Sprint (or parts of it) when they work with clients
People looking to implement the Design Sprint at their company and establish it as a practice internally
Agencies that sell the Design Sprint as a service to clients
What you get:
The experience of a deep-dive into the Design Sprint like you've never seen before
Advanced facilitation training (new and improved)
Help with Selling the Sprint (internally and externally)
1-on-1 time with AJ&Smart and Jake Knapp
Connected with companies looking to hire Design Sprint facilitators
Network with other facilitators and like-minded people
Premium experience: delicious food, great company, and a beautiful venue
Who will be training you:
AJ&Smart have trained thousands of people all over the world (including employees of Google, Slack, and LEGO) about the Design Sprint. At this 3-day training event, you'll work directly with senior members of AJ&Smart's Sprint team (who are constantly running Sprints for some of the world's best-known companies) and Jake Knapp, the Design Sprint creator. They'll share their experience, learnings, and tips and tricks they've collected over years of facilitating Sprints and you'll get to experience putting some of these into action at the event.
FAQ
Who should attend?
This event is specifically for people who have taken, or who are taking, our Design Sprint Masterclass. The reason for this is because we won't be covering Design Sprint basics at the event and instead will go much deeper into advanced facilitation techniques.
How big will the group be?
We're keeping the group size relatively small and very manageable to make sure we can cater to everyone's needs. Tickets will be limited.
Will I get a chance to explore my specific concerns with Jonathan & Jake?
Yes! There will be plenty of time built in for this and the whole event is designed to be as useful for each individual as possible. Make sure you tell us at the welcome brunch if there's anything you'd specifically like covered.
I'm coming from out of town – can you recommend somewhere to stay?
We'd love to! Email support(Replace this parenthesis with the @ sign)ajsmart.com
Can I purchase more than one ticket?
Absolutely – but everyone attending needs to have taken our Design Sprint Masterclass first
How long does the Masterclass take to complete?
We've had some students complete it in just a few days, and others prefer to spread it out over a few weeks or a month.
I've not run a Sprint before – can I still come along?
You certainly can, however, you need to have completed our course first
WHAT REAL HUMANS THINK ABOUT OUR TRAINING

"AJ&Smart's Design Sprint Bootcamp was an incredibly valuable and enjoyable two days, that I know will have a lasting impact on our business." – Tom Cannon, Salesforce AppExchange
"Impactful and easy to comprehend . . . Was a great Team Building exercise with my team!" – Sascha Fuhren, PlanetHome Group

"The Design Sprint Bootcamp was a perfect mix of hands-on experience with the method, along with great fun with smart people and shared insights. I find it really valuable that the organisers were very open to share their knowledge and pass the design sprint methodology to us, giving us tips on how to facilitate a design sprint on our own. A sense of humour, great food and a great vibe – loved it!" – Janet Todorova, Paysafe 
"I really enjoyed participating in the Design Sprint Bootcamp. AJ&Smart provided a very fresh and inspirational learning atmosphere coupled with practical expert tips on how to run a sprint yourself. I would recommend to try it out!" – Verena Lübken, EON
"It was intense, very inspiring. I really need to share these exercises within my company, it was very useful. I'm sure I will run design sprints in my team soon!" – Julia Rosich, Babbel